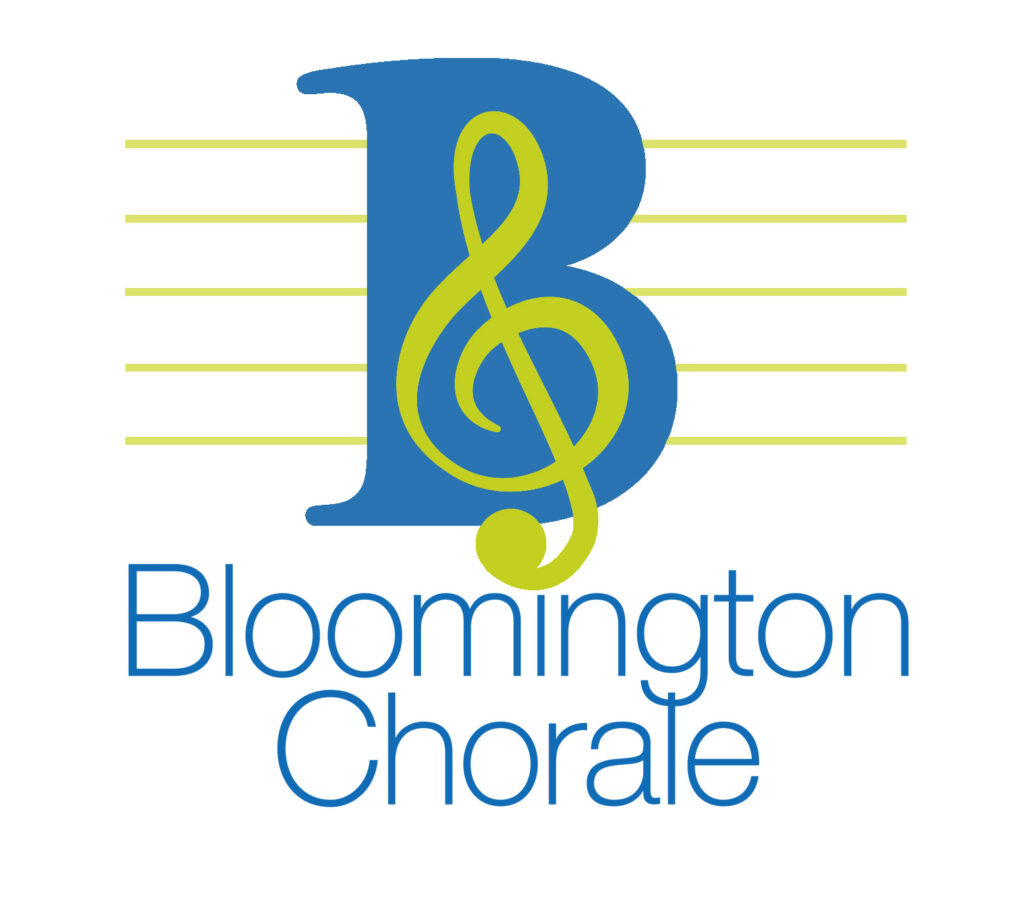 Looking for affordable, enjoyable recreation, an opportunity to make new friends, feel good and contribute to the community? The Bloomington Chorale may be your answer!
REHEARSALS: The Bloomington Chorale rehearses on Monday nights at the Bloomington Center for the Arts. REHEARSALS FOR THE SPRING '23 CONCERT BEGIN ON MONDAY, JANUARY 9, 2023
CONCERT DATES: Spring concert dates, Friday and Saturday, May 19, 20, 2023
*** To become a member, all persons are required to be fully vaccinated and boosted against Covid 19 and show PROOF of vaccination PRIOR to attending rehearsals. Masks are NOT required at this time, however the Chorale reserves the right to mandate masks at any time during the session in the event the virus escalates.
Participants are also required to sign a one time waiver stating the Bloomington Chorale is not responsible should you contract the Covid virus or any of its variants while participating in Bloomington Chorale activities.
HOW TO REGISTER: There are 2 ways to register.
Online (Preferred): To register online click HERE. Registering does not commit you to joining the chorale, but registering online helps us plan ahead and speeds up handing out music.
In Person: You can register in person the first night of rehearsals.
Payment: To pay the session fee of $80 via credit card ($82.70 including fee), click HERE. You can also pay via check or cash in person.
Please remember to bring your Covid Card to the first rehearsal if you will be joining the Chorale for the first time or have not shown your card previously.
$80 per session, and scholarships may be available.
No auditions required, only the ability to match pitch, blend with others, and a commitment to sing.
2 sessions per year; fall/winter session (Sept. – Dec.), and spring session (Jan. – May)
2 major concerts performed per year at the Schneider Theater, Bloomington Center for the Arts
Rehearsals every Monday evening from 7-9 PM.
Must have proof of Covid vaccinations and booster to enter the rehearsal room
Rehearsal location:
Bloomington Center for the Arts
Rehearsal Room
1800 West Old Shakopee Road
Bloomington, MN 55431
Questions or comments? Contact the Bloomington Chorale at:
Reasons to Consider Joining
You will be part of a fun, welcoming company of like-minded individuals; single, married, young, old and everywhere in between.
There have been numerous studies done on the Health Benefits of singing.
Singing releases endorphins which make you feel energized, improves mood, and reduces pain.
Singing reduces heart rate and decreases blood pressure.
Singing tones abdominal and intercostal muscles and the diaphragm and stimulates circulation.
Singing improves posture and tones facial muscles.
Singing strengthens concentration and memory.
GIVE IT A TRY!
You are welcome to sing with the Chorale for the first two rehearsals of the session at no charge. To become a member, you will need to register and pay dues before taking your assigned music packet home. If you have questions, contact us at Info@BloomingtonChorale.org or call 952-563-8582. We look forward to singing with you!!!