BLOOMINGTON CHORALE
The Bloomington Chorale is an adult mixed non-audition community choir. Together, this is a community of singers who enjoy friendships, music, and performing, as well as learning and refining vocal technique and repertoire. A wide variety of music is performed including contemporary, classical, Broadway, popular, spirituals, jazz and more. Singers are from all walks of life, income levels, cultures and backgrounds. Learn more about us here.
The Chorale is a fun and welcoming group that would love to have you join! Rehearsals are on Monday nights at the Bloomington Art Center. As one current member commented, "I came for one session 9 years ago and it was so fun, I'm still here." Click on the JOIN tab for more information.
---
BLOOMINGTON CHORALE SPRING CONCERT 2023
COME ALIVE!! IT'S SHOWTIME!
Concert Dates: Friday, May 19 and Saturday, May 20, 2023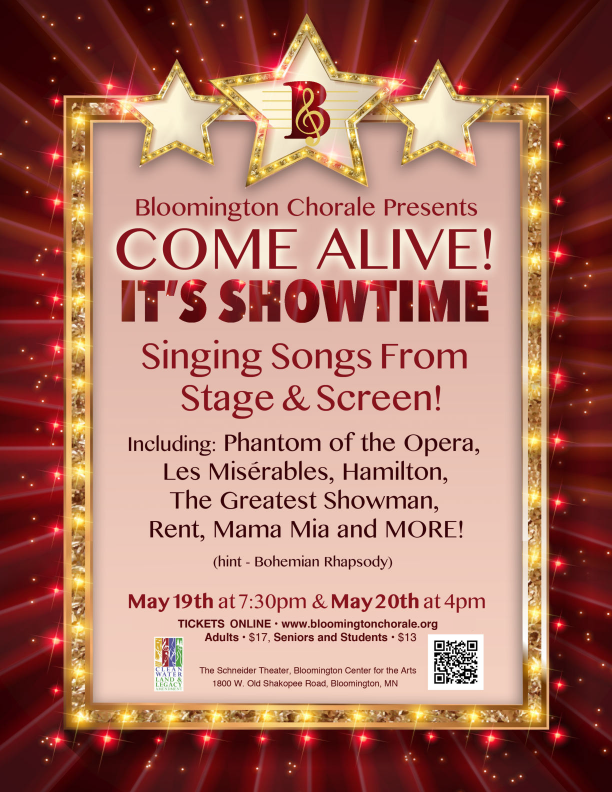 The Bloomington Chorale Spring Concert is a celebration of songs from stage and screen. Many old and new favorites will be performed including Moon River, an Andrew Lloyd Webber medley (yes, with Phantom of the Opera!) and many more.

You are sure to enjoy this special concert with selected music from Broadway and movies!
---
The Bloomington Chorale went Virtual for the Spring of 2021
During the COVID19 pandemic, the Chorale took some time off, but also tried something new. Since singing in person was no longer possible, the group put together a few pieces virtually with the help of the directors from our sister group, the NOTEable Singers. Take a look starting with these videos.
---
Bloomington Chorale (BC) Jams!
We have decided to go weekly with the BC Jams to try and build these up to pre-pandemic levels. The Jams are on Saturdays from 7-9:30pm in the Rehearsal Hall at the Bloomington Center for the Arts. The first 75 minutes are focused on Uke stuff and then the last 75 minutes is a more fluid Jam and depending on who is there and may include guitars, basses, harmonizing, percussion, recorders, etc. Come on down and join the fun! If you have never played Ukulele, no problem: we have extras! We will have you doing some basic strumming within a short period of time.